Jacquie Ayre, the Liverpool World Centre's Global Learning Education Officer, recently met with Amy McDowall who works at Manchester Museum as their Primary Learning Coordinator.
The aim of the meeting was to share ideas about how we can both promote the value of the Sustainable Development Goals and help teachers integrate them into their classroom practice. This meeting was part of work connected to Jacquie's EU GUAG project (Get Up and Goals) which has the objective of 'structurally linking formal education to global citizenship education' and an awareness of the SDGs amongst teachers and pupils. We are both passionate about supporting teachers and strengthening their confidence to integrate and embed these into their day to day practice.
Manchester Museum is proud to be part of the University of Manchester, which was recently ranked first in Europe and third in the world in the 2019 Times Higher Education University Impact Rankings for the quality and scale of their impact against the SDGs. The museum plays a large part in that through its public engagement work around its global collection of natural history and archelogy. It is the world's first carbon-literate museum (holding a Gold Award with the Carbon Literacy Trust and aims to build a more sustainable planet by being the world's most inclusive, imaginative and caring museum.
Manchester Museum is currently undergoing a major project to develop and transform the museum to bring more wonder and inspiration from around the world to visitors. This is an exciting opportunity for museum staff to refocus their work and promote the use of their wonderful collection to support the curriculum and to enable children to engage with the global issues that will shape their future.
Although the museum is currently partially-closed for this building work – with the archaeology and cultures galleries closed until late 2021 – there are still lots of ways that schools can make the most of the open galleries. The unusual combination of dinosaur fossils, extinct modern creatures and live endangered rainforest species all under one roof tells an engaging story about what is different about the mass extinction we are all living through.
A trove of resources makes putting together a free, self-led visit to Manchester Museum a piece of cake. For primary schools, they also have collections of activity ideas of how your visit might link to Living Things or Evolution, Classification and Fossils.
Children might…
Find out how dinosaurs became extinct and compare these reasons to modern extinction
Recreate a food web or classification key to understand how all life on Earth is interlinked
Discover how both modern scientists and everyday actions can protect amphibians and reptiles
Create a speech, letter, poster or internet campaign encouraging people to save their favourite animal
The museum currently runs special projects throughout the year to develop and test new programme ideas. For example, they and LWC are currently working with a cluster of schools to develop pupil-led projects around SDG15 'Life on Land'; another cluster of schools is developing a climate change linked musical performance; and last year, five schools went behind-the-scenes to develop films about how the museum works scientifically in its care for collections and animals.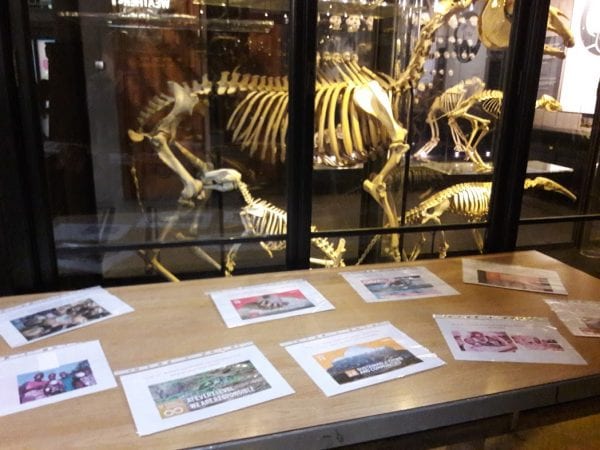 Secondary teachers might wish to use one of their PCR sessions to identify endangered frog species from our vivarium or develop drawing skills with extinct animals in an artist-led workshop. Primary schools might also consider combining art and science with a Drawing from Nature day at the museum and their neighbours at the Whitworth gallery.
It is our intention to continue these meetings and professional conversations to ensure we support the development of important Global Learning Skills in pupils to enhance their critical thinking and problem solving. Liverpool World centre can bring their curriculum expertise and experience to these meetings with the aim of supporting the museum in inspiring teachers to be creative and embed global learning into their day to day practice.
To find out about opportunities for your school to work with the museum in the future, please sign up to receive their primary or secondary e-newsletters.

You can also find out more information right here on the UK Get Up and Goals website or the transnational websitewww.getupandgoals.eu or get involved and follow us on Twitter @GetUpandGoalsUK